I traveled to Moab recently with the youth from the neighborhood for Youth Conference. For the non-LDS readers, the youth are 12 to 18 young men and young women. There's usually some destination we go to (in this case, Moab), and the youth have an opportunity to do awesome stuff and learn something about the gospel while they're at it. So, enter Moab.
We've got some heavy-duty outdoorsmen in our neighborhood. Of all the outdoorsy types I've
ever
met, Keith Hillman is the most fascinated with nature. He claims that after he leaves this life, you better just assume that Moab is his because he "dibs-ed it." He was in charge of this little adventure that started at 5:30 in the morning on Thursday.
I don't know about the youth you know, but most 12-18 year olds don't even know the clock works at 5:30 in the morning. I was skeptical that anyone would show up—after all, I know the young men I work with. To my delight and great surprise, there were tons of youth that showed up at 5:30 in the morning!
You know those huge 14-passenger vans? We got 3 of them! We caravaned down with handheld radios in each vehicle. By the time we made it to Monticello, everybody had a call sign, which is
not
the same as a nickname.
Quick side note here. There are only a few rules of using a radio, and I made sure each of the youth understood basic radio etiquette: 1) no one uses anyone's real name...must be a call sign; 2) you acknowledge statements with 'acknowledged' or 'roger' or 'affirmative'; 3) you say 'over' when you're done speaking, and you don't say 'over, and out' unless you're turning off the radio. We could have done with a few other rules like don't play a song off your iPod over the radio...it sounds like crap. And... Well, that's the only one.
So we made it to the Monticello Temple, where the youth participated at the temple. That was a great experience.
From there, we traveled to Moab and set up camp.
We hit Corona Arch that evening and had an excellent discussion about "Staying on the Path," this year's theme. Feast your eyes on this. Amazing. Keith said it best, "Ya, people look around at this stuff and still have the gall to think there's no God? What's wrong with these people? I mean, look at this!"
We also spent some time in the water:
And yes, this is what you get when you've got a graphic designer working with youth: cool pictures. They were really fun to make.
Boys will be boys, of course, and we had some playful brawls on the beach:
The next day got a little messed up for my sub group. The plan was that small groups would head off at all points of the compass and do some hiking, rappelling, swimming, etc. Our group was a little complicated because our hike was only 30 minutes long and we needed to be out all morning. We made the most of it. This is Moon Flower Canyon.
Here I am, working with the youth. I'm helping them cool off from the Moab heat. What better way than sticking your head in the moon pond? Hahahaha.
We were supposed to meet back at Arches National Park to go rappelling in the late morning. There's a little staging parking lot that has signs posted all over: "10-Minute Parking."
We stayed about 2 hours before we really figured that our rendezvous wasn't going to happen. So we made for camp, and figured we'd catch up with Keith later. Turns out he had some trepidation from some of the less experienced rappellers that were less keen on jumping off cliffs. His 3-hour tour turned into 6.
We were ok, though. I decided I'd throw a bunch of the other youth in the Colorado River. That sounded like fun to me!
Keith vowed he'd make it up to us by taking us to Dragonfly later that afternoon. What a treat. He warned us in advance
not
to take electronics of any kind, wear stuff you can get wet in, and be ready for a long hike. We spent the next 4 hours grinning like hyenas. It was spectacular! This is why you don't take electronics (Not my picture, since I didn't bring my camera.)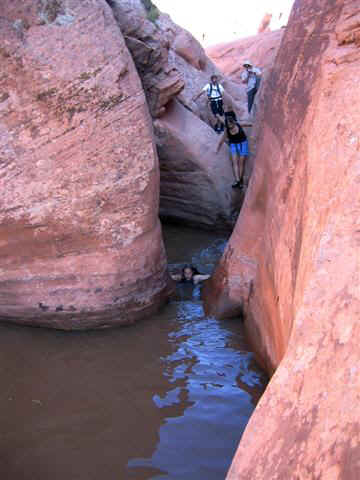 Ya, that's part of the hike. And no, there's
no
way around it. You have to go through it. The water level was high while we were there, so we dove in helmets, rappelling harness, packs and all to swim through the muck! There were two separate rappels. Both were excellent, but the 115 rappel into the canyon wash was spectacular! We were above the trees and came down into a little pond. It was surprisingly lush in the wash. Two big thumbs up for Keith's call to hit Dragonfly!
Here's the panorama I snapped as we were departing the van en route to Dragonfly Canyon. Of course you can't see the canyon itself, but it's dead ahead in the middle of this shot.
The next morning we found our way back to Arches National Park to have a gander at Delicate Arch, the definitively iconic arch. If you've seen a Utah license plate, you've seen this arch. But, that's not the same as seeing it in person.
Well worth the 45-minute hike to get there.
With Delicate Arch checked off the list, it was time to head home. We struck camp, packed the vans, and cruised out to the freeway, leaving Moab in the rear-view mirror. It'll be there when we come back, well, at least when Keith's ready to go again.